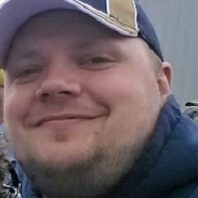 Dave Renz, Jr.
Adult Discipleship Director
Cell Phone: 715-413-2183
Email: renzdf@aol.com
Facebook: http://www.facebook.com/david.j.renz
Twitter: http://twitter.com/jer2911mr
In August of 2006, in the back corner of C3's sanctuary, Dave & his wife Maria came to know God. And that's where their story really begins. They were married in November, and in 2007 Dave received a call to pastoral ministry from the Lord. Over the years God has continued to work in Dave life, from moving away and then back to Washburn in preparation for the ministry.
Dave has served in various ministry roles in Park Falls and in Washburn, where C3 is located. He has served as Royal Ranger boys club commander, Director of Youth Ministries, and church elder. He also continues to study for his ministerial credentials with the Assemblies of God while serving full-time on the Red Cliff Police Department.
Dave & Maria have five children: Alex, Nate, Alyssa, Stephen, and Josiah. They are your typical Wisconsin family. They greatly enjoy hunting, fishing, and camping. They love the Packers, as well as watching and playing most other sports. They love being outside unless it's over 80 degrees, which is why Dave won't leave Wisconsin!
Dave is looking forward to many years of serving C3 and our local communities. He is very excited to help you grow!